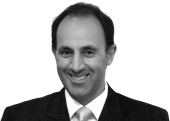 David Gakhar
Managing Director
David joined Underpin & Makegood in 1983. He worked his way up from working on site to his current role. David has managed a variety of projects, including underpinning the House of Lords, part of London Zoo, a significant section of London's Guildhall and an 18th century farmhouse in rural France. As past Chairman of ASUC, the industry's leading Trade Association and past Chairman of the Occupational Working Group that devised the NVQ qualification in underpinning, David's site experience and qualifications as a Chartered Surveyor stand him in good stead to run and manage our Company, aided by his valued board and team of hugely experienced managers.
David has a particular affinity with period buildings and bygone construction techniques and is always keen to see damaged buildings restored in a sympathetic way to their former glory.
David is married, has 2 children, lives in North London and cites his interests as reading, football, beekeeping, cycling, golf, keeping fit and eating!